June 29, 2009
Summah Selectah
FIrst sUmmer's Compulashon wiz stronge zounds
Tracklist :
When i last spoke to Carol (Toy Selectah Remix) [MSTrks] Morrisey
Anything_Goes Major Lazer
Hot chick Pheo, produced by JHawk
She A Boom USA 808
Shove It Santogold
we are the people modernaire remix Empire of the Sun
Wanna Be Dancin Radio Edit The Glass
Mark Du Mosch – Overload Mark du Mosch
Punch Card Joee Irwin
Throw It Away (Designer Drugs Remix) Messinian
body_double Pino Donaggio
n1kk1 at 8:10 pm
March 1, 2009
Oh! We Have Band
We Have Band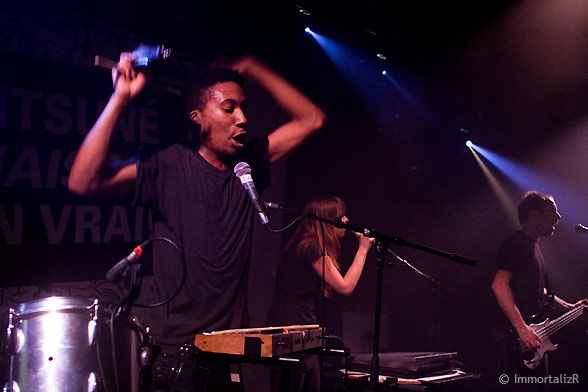 Vraiment bon, ce triangle 2 boys/1 girl est au-delà  d'une réminiscence Talking Heads ou Buggles voire Joy Division (bien qu'on adore!) un groupe qui patate l'ambiance en concert!
Ils se définissent ainsi :
"On aime tous la musique sombre et c'est assez important pour le groupe, on essaie de faire quelque chose de difficile peut-être, mais qui a une sensiblité pop, quelque chose sur lequel on peut danser, mais sans que cela soit trop évident."
We Have Band – Hear It In The Cans (dirty version)
We Have Band – You've Had Band
Pas de vid de leur passage à La Maroquinerie, où ils furent plébiscités!!!
Ils repassent le 1er avril… don't be lame twice!!!
rikool at 10:07 am
February 24, 2009
La Roux… tourne (en boucle)
Un titre de post bien pourrave pour vous alerter sur l'avènement de La Roux qui "rallume la mèche synthé-pop" [dixit poptronics qui a tout compris sur le phénomène]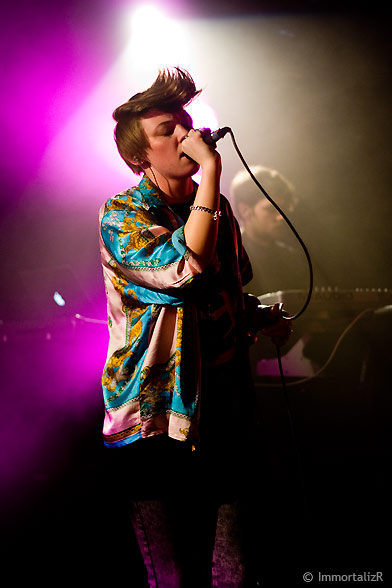 :: Quicksand :: révèlateur (sur Kitsuné Maison 6)
:: In For The Kill :: passe la seconde en Toyota


:: Bulletproof :: défouraille (morceau de clôture vendredi dernier à La Maroquinerie : trop classe!)
rikool at 10:56 pm
July 6, 2008
Sound of Kuduro

Buraka Som Sistema et son clip sound of kuduro from Angola 2007 avec M.I.A

A écouter aussi "Kalemba Wegue Wegue" de Pongo love sur leur myspace
rikool at 10:21 pm
June 29, 2008
Futur is now!
La reactable, un truc doux dingue, inventé par les génies de l'université de musique de Barcelone. [Link]


Random music inside, off course!


Grave, j'en veux une!!!

rikool at 10:04 am
June 22, 2008
hold these oldies
L'été ramène l'accent cockney, avec les éternel revivals (ouais, c'était mieux avant).
j'attends patiemment un revival Goa pour rigoler, mais en attendant, j'écoute toujours Wiley et je kiffe.
The BPA ft David Byrne & Dizzee Rascal – ToeJam
Wiley – Wearing My Rolex (What Would We do) Video
n1kk1 at 8:01 pm
June 18, 2008
Off Mode : Beggin da old shit!
Interruption des programmes… petit intermède… C'est bon!
rikool at 8:42 am
May 26, 2008
Killer Nez
Ah ah
(tchoo)
N*E*R*D sort un truc le 10 juin. De quoi donner envie de (re) sortir à  n'importe quel blasé. every one nose tue, déchire, tout ça quoi… J'aime… J'envie… Il est le 14 juin à  Brixton… Eurostar… Nuit blanche.
n1kk1 at 10:06 am
May 8, 2008
Ecoute! Ecoute!…
Lifelike est dans tous les bons goûts du moment!
Ces mecs rules le putain de machin merde! Capiche ?!
The Presets – Are You The One (Lifelike's Serious Remix)
Cazals – Somebody Somewhere (Lifelike Remix)

Fox Hotel Lounge – Copenhagen | Courtesy of moi rikool
rikool at 10:53 pm
May 1, 2008
Quand faut y aller…
Je vends mon ticket d'invitation gratuite au show de Sebastien Tellier d'hier. Ce ticket collector se vendra très cher dans quelques années, à  la mort de ce célèbre chanteur populaire dans les classes moyennes paresseuses intellectuellement et formant cette foule uniforme déguisé en costume Celio que nous voyons hanter notre belle capitale.
Aussi je le vends tout de suite très cher (collector).
je vais de ce pas créer une page ebay.
Or donc il faut se laver les esgourdes, et vite. Joie, le 2 mai, sur Paris, une chance se pr̩sente, risqu̩e, avec Hercules and Love Affair. Han, encore de la gilrpop (neologisme & typo Рattention, trend setting in progress). Ouais. Mais mieux (on esp̬re).
Hercules and Love Affair – Blind
Sinon, rhaaaa lovely joie et remuage de graisse posterieure. DIPLO & some maddecents affilates representeront le 7 mai, from 23:00 to first sun beam. Sauf célébration de la nativité d'une nouvelle Eve ce sera là  l'occasion de voir le bouli de Poussin Fou (fan numba one et chroniqueuse fantôme) remuer sous l'oeil concupiscent de la gent masculine.
Diplo – must be a devil
(spéciale dédicace MahNon!)
n1kk1 at 11:36 pm
Next Page »